I was wandering through the archives of my photo files today and found these. (poor quality, they were taken under the shade of a red tent)
I just thought it was neat on the eve of Super Tuesday.
This was right before and just after I had emceed the tomato eating contest that is held each year at the Pink Tomato Festival. I emceed it for about 10 years and they were there every year for the last few before I moved away from Arkansas.
Huck always won. Every year. I know he and Win participated in at least 4-5 of them. I should have shorted Win's last bag of tomatoes so he could win - at least once. :0(
I sure miss Win. You'd never meet a nicer man.
This is the late Win Rockefeller, me, and ol' Huck himself - pre-diet (you can see that my arm did not reach all the way around him) Gov. Mike Huckabee - we were listening to Win tell a joke.
Obviously, it was a really funny joke! ;)
This is some pre-contest smack talk going on.
This is me encouraging them to eat faster!! (that is my girl behind me - in the black sleeved tee shirt)
This is me announcing the winner (I know, really terrible pic of me)....Huck won, of course. Mrs. Huck (Janet) actually came in second. (Poor Win.) I gave Mrs. Huck one of those tomato cans decorating the table. I made all of them.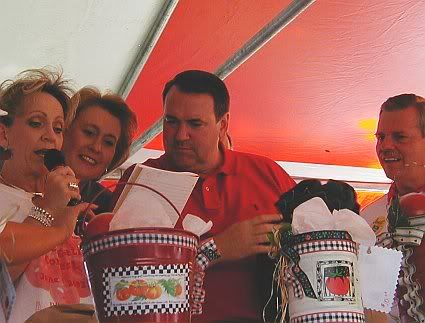 Fun memories. Makes me homesick. :0(